Listed third in Sports Car International's Top Sports Cars of the 1970s, the Countach's breakthrough design is still considered one of the most striking in supercar history.
Loved for its precision edges and angular curves, it remains just as mesmerising as when it was introduced in 1974.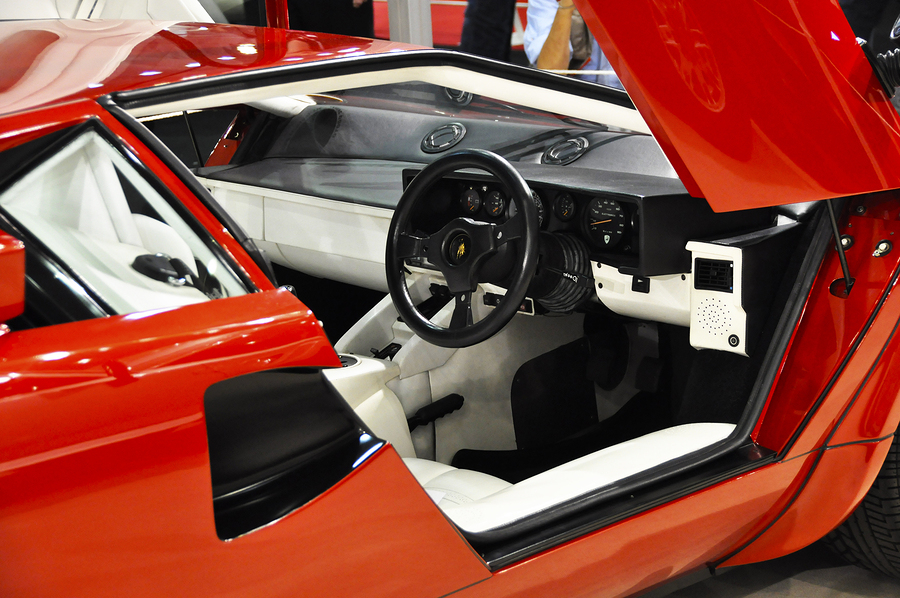 Perfect for photoshoots, film and television productions, as well as wedding hires, the Countach is one of our most popular sports cars and is one not to be missed for those who love classic cars.
Countach Key Stats
| | |
| --- | --- |
| Designed by | Macello Gandini |
| Horsepower at RPM | 425 at 7000 |
| Engine | 4 litre V12 engine |
| Distribution | Dual overhead camshafts, chain drive, two valves/cylinders |
| 0 – 60mph | 6.8 seconds |
| 1/4 mile | 14.40 seconds |
| Top Speed | 195 mph |
From a single day hire right through to a week, we can cater each of our services to your individual needs and requirements.
Countach Hire Information
Unusually for a UK Lamborghini hire company, we offer a brilliant delivery service for each of our Lamborghini rental cars at the rate of £1.50 +VAT per mile from our central London offices.
Although the minimum age for renting a Countach is in fact 28, we can after approval from our insurers, offer the C0untach from the age of 25 at the insurance cost of £35 +VAT per day.
Additional drivers can also be added to the insurance for as little as £20 +VAT per person per day.
If you plan on driving a little further, it's also worth knowing that you can actually pre-book extra miles for your hire with an impressive 25% discount.
Before we are able to hand over the keys, we do require two forms of ID (driver's licence and passport) plus to documents that are able to prove the main driver's home address. These can be in the form of a utility bill and a bank statement, but they must be dated within three months of the start date of the hire.